Electrical Distribution - How can we help?
DUSK to Dawn Security Lighting
Voltec's Dusk to Dawn Lights are perfect for lighting dark, secluded areas. They are manufactured with corrosion resistant die cast aluminum housing and an optional mounting arm is available. We offer them in four different styles, Fluorescent, Metal Halide, High Pressure Sodium and the latest technology, LED. Some applications for these lights include barns, side roads, pathways, or any other place where dependable security light is needed. No matter what your need, Voltec's Dusk to Dawn Security lights have you covered.
Scroll down to see ALL product or click on category tab.
70 WATT METAL HALIDE DUSK TO DAWN SECURITY LIGHT
70W Metal Halide
08-00432 4pk
70 Watt Metal Halide Bulb
10" Aluminum Reflector with Acrylic Lens
120 Volt Electronic Ballast with CDS Photocell
Replaceable Twist-Lock Photocell
Pole or Wall Mounted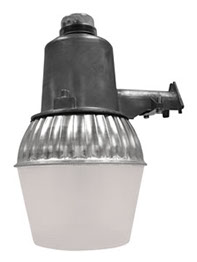 65 WATT FLUORESCENT DUSK TO DAWN SECURITY LIGHT
65W Fluorescent - Light Color White
08-00434 4pk
65 Watt CFL Dusk to Dawn Security Lighting
65 Watt Compact Fluorescent Bulb Included
10" Aluminum Reflector with Acrylic Lens
120 Volt Electronic Ballast with CDS Photocell
Replaceable Twist-Lock Photocell
Pole or Wall Mounted
Optional Extension Arm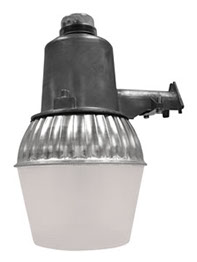 70 WATT HIGH PRESSURE SODIUM DUSK TO DAWN SECURITY LIGHT
70W High Pressure Sodium - Light Color Amber
08-00435 4pk
70 Watt High Pressure Sodium Dusk to Dawn Security Lighting
70 Watt HPS Bulb Included
10" Aluminum Reflector with Acrylic Lens
120V/60HZ Electronic Ballast
Replaceable Twist-Lock Photocell
Pole or Wall Mounted
Optional Extension Arm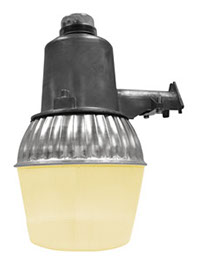 150 WATT HIGH PRESSURE SODIUM DUSK TO DAWN SECURITY LIGHT
150W High Pressure Sodium - Light Color Amber
08-00436 2pk
150 Watt High Pressure Sodium Dusk to Dawn Security Lighting
150 Watt HPS Bulb Included
12" Aluminum Reflector with Acrylic Lens
120V/60HZ Electronic Ballast
Replaceable Twist-Lock Photocell
Pole or Wall Mounted
Optional Extension Arm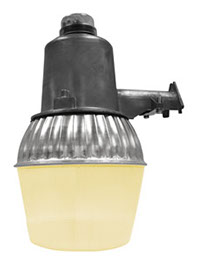 100 WATT METAL HALIDE DUSK TO DAWN SECURITY LIGHT
100W Metal Halide - Light Color White
08-00437 2pk
100 Watt Metal Halide Dusk to Dawn Security Lighting
100 Watt Metal Halide Bulb Included
12" Aluminum Reflector with Acrylic Lens
120V Electronic Ballast
Replaceable Twist-Lock Photocell
Pole or Wall Mounted
Optional Extension Arm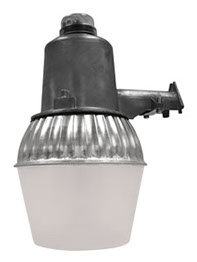 150 WATT PULSE START METAL HALIDE DUSK TO DAWN SECURITY LIGHT
150W Pulse Start Metal Halide - Light Color White
08-00438 2pk
150 Watt Metal Halide Dusk to Dawn Security Lighting
150 Watt Metal Halide Bulb Included
12" Aluminum Reflector with Acrylic Lens
120V Electronic Ballast
Replaceable Twist-Lock Photocell
Pole or Wall Mounted
Optional Extension Arm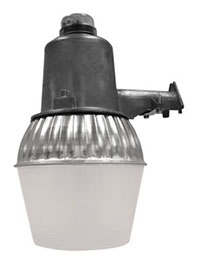 33 WATT/4200 LUMEN COB LED DUSK TO DAWN SECURITY LIGHT
powder coated
LIGHTWEIGHT/LOW HEAT OUTPUT
33W/4200 Lumen COB LED - Light Color White
08-00450 4pk
33 Watt LED Dusk to Dawn Security Lighting
4200 Lumen/33 Watt LED Bulb Included
Acrylic Prismatic Reflector
Input Voltage 120-277VAC 50/60HZ
Aluminum Die Cast Fins to Optimize Heat Dissipation
Replaceable Twist-Lock Photocell (120V only)
Pole or Wall Mounted
Optional Extension Arm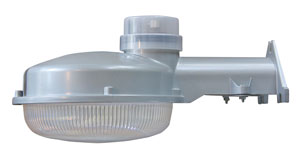 21" Extension Arm
08-00431 12pk
Mounting Hardware Included