Industrial - How can we help?
​Voltec Power & Lighting's line of electrical adapters for the professional trades includes 3-outlet power block, u-ground to locking and visa versa conversion adapters. "Y" and "W" adapters are also available in 15-20 amp configurations. All of these products are designed to maximize flexibility and are compatible with a variety of portable tools.
Scroll down to see ALL product or click on category tab.
3-OUTLET LIGHTED POWER BLOCK
SJTW 3-Conductor with Lighted End
14/3 gauge
5-15P/5-15R
Orange/Black
2ft/04-00088 15amps, 1875watts, 6pk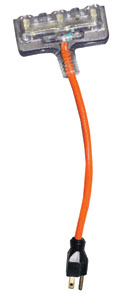 STW 3-Conductor Power Block with Lighted End
12/3 gauge
5-15P/5-15R
Yellow
2ft/04-00090 15amps, 1875watts, 6pk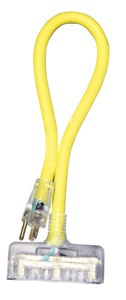 STW 3-Conductor Power Block with Lighted End
12/3 gauge
L5-20P/5-15R
Yellow
2ft/04-00091 15amps, 1875watts, 6pk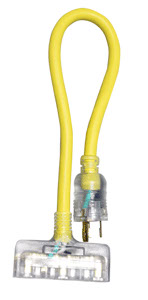 2-OUTLET U-GROUND Y ADAPTER and LIGHTED END
STW 3-Conductor with Lighted Ends
12/3 gauge
5-15P/5-15R
Yellow
2ft/04-00094 15amps, 1875watts, 12pk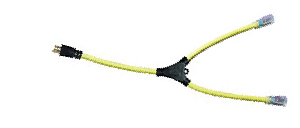 2-OUTLET Y ADAPTER with LOCKING PLUG and LIGHTED END
STW 3-Conductor with Lighted Ends
12/3 gauge
L5-20P/L5-20R
Yellow
2ft/04-00095 20amps, 2500watts, 12pk

3-OUTLET U-GROUND W ADAPTER
STW 3-Conductor with Lighted Ends
12/3 gauge
5-15P/5-15R
Yellow
2ft/04-00096 15amps, 1875watts, 12pk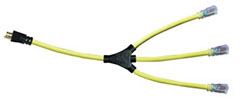 3-OUTLET W ADAPTER with LOCKING PLUG and LIGHTED ENDS
STW LOCKING 3-Conductor with Lighted Ends
12/3 gauge L5-20P/L5-20R
Yellow
2ft/04-00097 20amps, 2500watts, 12pk

3-OUTLET 20AMP GENERATOR W ADAPTER with E-ZEELOCK® and LIGHTED ENDS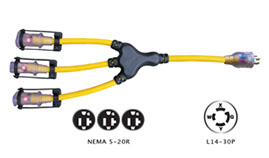 STW 3-Conductor with E-ZEELOCK® and Lighted Ends
10/4-10/3 gauge
L14-30P/5-20R
Yellow
2ft/04-00214
20amp, 2500watts, 4pk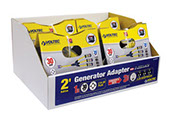 3-OUTLET 20AMP GENERATOR W ADAPTER with E-ZEELOCK® and LIGHTED ENDS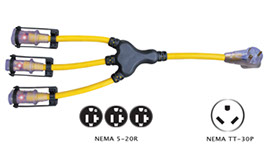 STW 3-Conductor with E-ZEELOCK® and Lighted Ends
10/3 gauge
TT30P/5-20R
Yellow
2ft/04-00215
20amp, 2500watts, 4pk
3-OUTLET 20AMP GENERATOR W ADAPTER with E-ZEELOCK® and LIGHTED ENDS
STW 3-Conductor with E-ZEELOCK® and Lighted Ends
10/3 gauge
L5-30P/5-20R
Yellow
2ft/04-00216
20amp, 2500watts, 4pk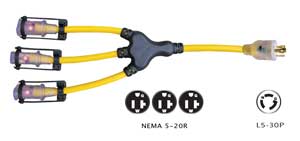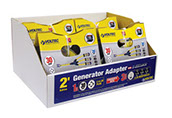 3-OUTLET 20AMP GENERATOR W ADAPTER with E-ZEELOCK® and LIGHTED ENDS
STW 3-Conductor with E-ZEELOCK® and Lighted Ends
10/3 gauge
L5-20P/5-20R
Yellow
2ft/04-00217
20amp, 2500watts, 4pk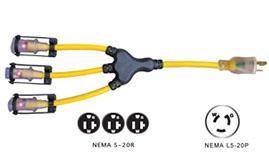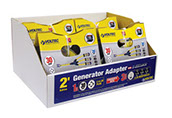 1-OUTLET LOCKING PLUG to U-GROUND CONNECTOR
STW 3-Conductor LOCKING
12/3 gauge
L5-20P/5-15R
Yellow
1ft/04-00092N 20amps, 2500watts, 10pk

1-OUTLET LOCKING PLUG to U-GROUND CONNECTOR with E-ZEELOCK®
STW 3-Conductor LOCKING
12/3 gauge
L5-20P/5-15R
Yellow
1ft/04-00092 15amp, 1875watts, 10pk


1-OUTLET U-GROUND PLUG to LOCKING CONNECTOR
STW 3-Conductor LOCKING
12/3 gauge
5-15P/L5-20R
Yellow
1ft/04-00093N 15amp, 1875watts, 10pk

1-OUTLET U-GROUND PLUG to LOCKING CONNECTOR with E-ZEELOCK®
STW 3-Conductor LOCKING
12/3 gauge
5-15P/L5-20R
Yellow
1ft/04-00093 15amp, 1875watts, 10pk


1-OUTLET MULTI-PURPOSE CORD LOCK ADAPTER with E-ZEELOCK®
STW 3-Conductor
12/3 gauge
5-15P/5-15R
Yellow
1ft/04-00491 15amp, 1875watts, 6pk
1ft/04-00491TP 15amp, 1875watts, 6pk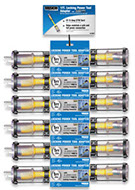 3-OUTLET LIGHTED WALL TAP ADAPTER
3-Conductor LIGHTED
5-15P/5-15R
Clear
04-00085 15amp, 1875watts, 25pk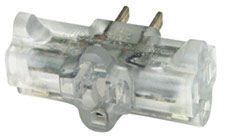 3-OUTLET WALL TAP ADAPTER
3-Conductor
5-15P/5-15R
Yellow
04-00087 15amp, 1875watts, 25pk